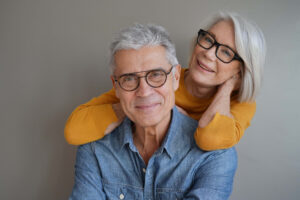 Many people have serious concerns about how their smiles will hold up as they enter their later years. Osteoporosis affects many seniors, and this number may be underreported due to its silent nature. About half of women over the age of 50 will break a bone due to a lowered bone density! The numbers for men are not that much better either, with a quarter experiencing the same situation.
So it is important to recognize your age and to take precautions to keep your smile as strong and as healthy as possible. Just a little bit of effort now can save you endless time and money in the long run. Today, your Kansas City, MO dentist focuses on how people can continue to look gorgeous despite their age!
Understand Your Changes
One of the best things you can do as you age is to recognize that you are getting older. Taking an appropriate stock of your abilities can save you in the end. Just as you might no longer be able to throw a baseball like you could when you were younger, it may be time to take a little more time and care with your oral health. This certainly doesn't have to be a terrible thing, it just means more effort!
Osteoporosis is known as a silent illness, as we simply cannot externally see signs of bone decay. It is important to follow your doctors' advice if they suggest a bone scan, as this might help to know more about how your bones are progressing. Information is important in staying healthy, as this can help you address issues as soon as they begin.
If you have reached the age of 50, it is best to assume that your bone density has begun to diminish. An increased level of oral health care can help in other ways, as well.
An Extra Effort
This special care might seem superficial, but it may save you from lasting problems with your smile. Your jaw's bone matter creates the structure you need to have a strong and functional mouth. This connects tightly to the teeth, allowing you to safely chew and bite. Bone loss can lead to loosening and even loss of these teeth.
So it is very important to take care of an aging situation by keeping a healthy diet. The more diversity in your produce, the better for your oral health, usually. We depend on many different vitamins and nutrients in order to keep our mouths safe.
Be sure that you are sticking to a strict oral health care routine at home. Twice-daily brushing is a necessity, as is daily flossing. And if you currently use tobacco products, quitting these can be the best decision of your life!
LEARN MORE TODAY
Contact Delightful Dental Care in Kansas City, MO by calling 816-942-7669 to schedule your next appointment with our team and learn more about how we can help your smile age gracefully and strong!