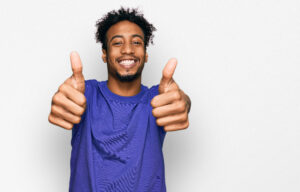 Your smile's health should be the first thing to come to mind when you are seeking dental treatment of any kind. While a person can maintain a healthy smile with a stain, he or she cannot maintain the effects of dental bleaching without a healthy structural foundation. In other words, the level of dental care you provide your smile means everything. It is important to revisit your at-home routine periodically, as falling short for too long will inevitably lead to complications. In today's blog, your Kansas City, MO dentist explores the necessary components of a thorough preventive routine and how you can take your oral health into your own hands.
Essential for a Healthy Smile
Whether you are aware of it or not, your smile is one of your greatest assets. Not only does a healthy and youthful smile communicate a great deal about your confidence and overall outlook on like, but it assists with routine tasks such as biting, chewing, and eating on a regular basis.
While your teeth are considered to be some of the strongest bones in the human body, that does not mean they are indestructible. As such, it is important to provide as much care for your structures as you can so that they remain strong and healthy.
Dental prevention is considered to be any treatment or practice that aims to strengthen your natural defenses, fend off bacterial threats, or overall make it difficult for your smile's health to come into question. Though you may be performing some of the necessary steps, it is important to revisit your routine to ensure the best quality of care. To learn more about this process and how we can help, give us a call today.
Brushing, Flossing, and Rinsing, Oh My!
In terms of at-home care, your dentist recommends practicing a well-rounded routine. Brushing your teeth is certainly the foundation of such care, as it helps to reduce the presence of bacteria-laden plaque that forms throughout the day.
In addition to brushing, however, you must also floss and rinse using antiseptic mouthwash. You see, flossing helps rid the teeth of stuck food particles that attract oral bacteria to your gum tissues. This provides periodontal protection, and rinsing helps provide an overall fresher clean. Contact our team to learn more about this process today.
Attending Routine Checkups
While taking all of the steps listed above certainly helps lay a healthy foundation of care, it is important to recognize that no routine is complete without a checkup and cleaning visit. These 6-month visits allow our team of professionals to closely examine your structures for signs of damage, as well as provide a detailed and more thorough clean than brushing alone.
Learn More Today
Contact Delightful Dental Care in Kansas City, MO by calling 816-942-7669 to schedule your next appointment with our team and learn more about the importance of thorough dental prevention.