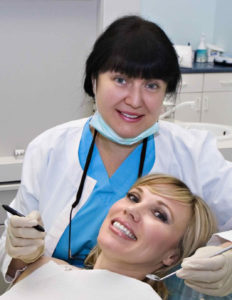 DR. DIANA TABAKH
Family Dentist
Dr. Tabakh has dedicated herself to providing high-quality dental care to all patients for more than three decades. She has received D.D.S. degrees from both Moscow Medical Stomatological Institute and the University of Missouri, Kansas City School of Dentistry, graduating from both at the top of her class. She also served as a Dental Associate until starting her own practice in South Kansas City in 1999.
Helping people has always been at the heart of Dr. Tabakh's personal and professional life. In addition to her enthusiasm for dentistry, she's also passionate about volunteering as a translator for newly adopted Russian youth and raising money for various charities along with her children. Outside of the office, she enjoys nurturing her garden, playing guitar, and crafting the intricate jewelry that you can find displayed prominently in our waiting room.
---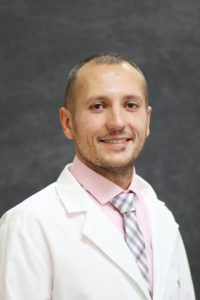 DR. DMITRIY SHPAK
Family Dentist
Please give a warm welcome to Dr. Dmitriy Shpak, the newest addition to our Delightful Dental Family! Dr. Shpak earned his dental degree from the University of Missouri – Kansas City (UMKC), Magna Cum Laude, with honors studies in Endodontics and Oral Surgery. Dr. Shpak received his Doctorate in Dental Materials from Oregon State University (OSU) and holds dental licenses in Missouri, Kansas, Texas, and Louisiana.
Dr. Shpak has served as an instructor in both dentistry and dental materials for several highly regarded institutions including UMKC, Johnson County Community College, University of Kansas, and Oregon State University. His clinical, endodontics, and oral surgery experience gives us the opportunity to unveil a new menu of services including root canals, extractions, implants, and more!
In his spare time, Dr. Shpak thoroughly enjoys spoiling his trio of beloved pugs and playing his favorite classical tunes on the piano or violin. We look forward to working with Dr. Shpak, and hope you'll join us in warmly welcoming him on your next office visit.
---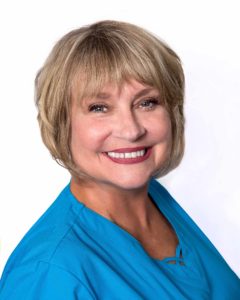 THERESA
Dental Hygienist
Theresa has been a hygienist since 1986. She graduated from Missouri Southern State University, in Joplin, Missouri, with a bachelor's degree in dental hygiene and a minor in Psychology. In 2002, Theresa studied for 2 years at Charis Bible College and is an ordained minister. For 10 years she worked for a periodontist, which became her specialty, and she is very good at it.
"I love my job; I had always been fascinated with dentistry, especially since I spent a lot of time in a dental chair growing up. I understand what it is to be a patient!" Theresa says. "I am originally from California, my father was in the Air Force so we moved around a lot. I spent 4 years in Okinawa, I hope to visit there again someday. My father was from the Midwest so when it came time for him to retire from the military, he moved us all out here. I have 3 grown children and 5 grandchildren, who I adore."
Theresa previously worked for Dr. Tabakh from 2004 – 2006, part time and we are thrilled to have her back in the office providing her amazing service!
---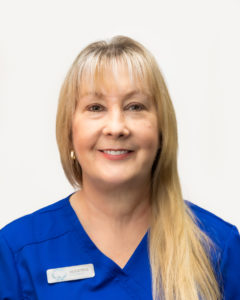 MARTHA
Dental Hygienist
Martha's love of oral health began in high school when she went to work for her Orthodontist. After acquiring a college diploma in dental assisting, she earned an Associate of Applied Science degree in Dental Hygiene from Johnson County Community College. Since then, Martha's 35+ year career has taken her to Chicago and St. Louis before settling in Kansas City. With a deep appreciation for the latest in dental technology, Martha regularly attends continued education courses to stay at the forefront of industry innovation. She is the proud mother to two grown sons and a daughter along with two grandchildren. Outside of the office, she feels most at ease when rock, mineral, and fossil collecting along with gardening and antiquing.
---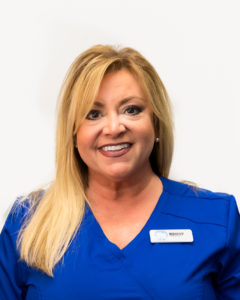 KRISSY
Dental Hygienist
Starting out as a dental assistant, Krissy Klepper followed her love of bringing smiles to fruition to Tallahassee, Florida where she earned a Bachelors of Science in Dental Hygiene. After putting her extensive dental hygiene knowledge to good use for more than 25 years, Krissy is licensed to practice in Kansas, Missouri, and Arizona. Now residing in Overland Park, Krissy can be found adventuring with her son Charlie, hosting friends and family on the regular, and satiating her wanderlust.
---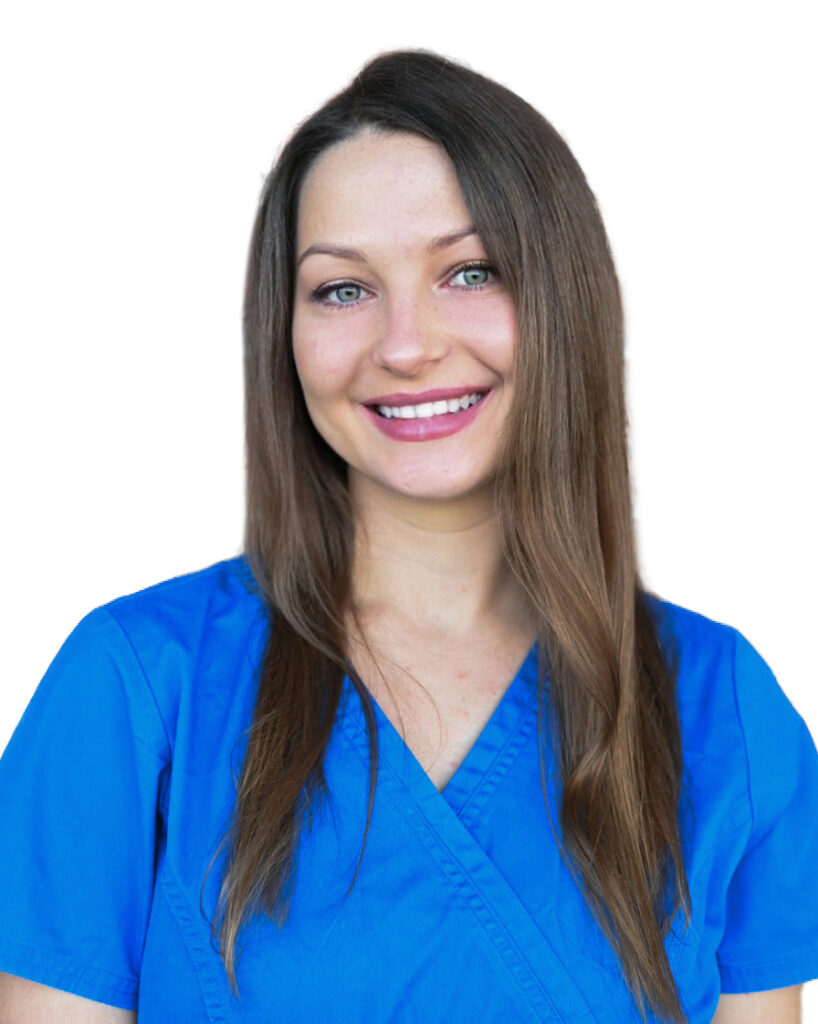 NINA
Dental Hygienist
Nina originally grew up in Kharkov, Ukraine. Since moving to Kansas City, she received her Bachelor of Science degree in Dental Hygeine from the University of Kansas City School of Dentistry, graduating Maga Cum Laude. Nina cares about spending time and caring for her patients while also attending hygiene related continuing education courses to keep up on the latest advancements in dental hygiene.She is happily married and likes to spend time with her friends, family, and her 17-year-old miniature Yorkshire Terrier. When she's not at work, she enjoys playing tennis, gardening, cooking, and traveling.
---
MEET WITH OUR TEAM IN PERSON
Our entire team is dedicated to treating people, not just smiles, and we're happy to welcome you to our family! To schedule an appointment or consultation with us, call Delightful Dental Care in Kansas City, MO, at 816-942-7669. We proudly serve patients and families who live in South Kansas City, Leawood, Overland Park, Johnson County, and all nearby communities.