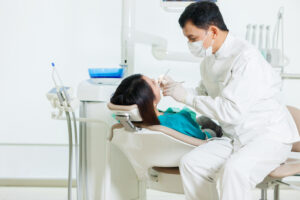 Needing to have a tooth removed can feel like a significant undertaking. In some cases, even if it is out of your control, it can seem like a failure. We are all taught about the importance of taking care of your teeth in order to maintain a healthy smile, so losing a tooth, if not several, can feel like a very big deal. Although, did you know that having a tooth extracted can sometimes be the best thing for your oral — and even overall — health? Indeed, when you are suffering from severe dental issues connected to your existing teeth, sometimes removal is the best way to move forward. Once you have a tooth removed, it is also important to have an implant placed to make your smile whole again. Luckily, we can provide both services. In today's blog, your Kansas City, MO dentist discusses situations in which an extraction is beneficial and also talks about your implant option.
When You Might Need An Extraction
In numerous cases, removing a tooth — or several — is the best choice for your oral health. If you have a tooth damaged by significant decay, it might not be treatable with a filling or strengthened with a crown. Additionally, if a tooth is suffering from a deep crack or chip, we might not be able to repair it. In either of these situations, extracting the affected tooth could be the best way to move forward. Moreover, a tooth can become infected, and this infection can spread to not the rest of your mouth and, in some cases, throughout your body as well. When this occurs, those with compromised immune systems could face serious health risks. In these cases, removing the infected teeth will not only save your smile but could also save your life.
How We Can Fill In the Gaps
After an extraction, it is very important to fill in the spaces as quickly as possible. When you are missing teeth, your jawbone does not get the stimulation it needs to thrive. This can cause it to lose density, weakening over time. If this issue goes on, untreated, it can prompt your face to sink in. When this happens, it can be difficult to even affix implants to your jaw because it is too frail to accept them. With this in mind, you need to act fast. There are several options at your disposal to replace missing teeth. Dentures and dental bridges are a great, simple way to fill in the gap, though if they are not-implant retained, you will not get the needed stimulation to maintain a healthy jaw. Dental implants, however, will complete your smile and keep your jaw healthy.
Contact Us To Learn More
If you have additional questions about extractions and implants, please do not hesitate to reach out to us! You can contact Delightful Dental Care in Kansas City, MO by calling 816-942-7669.