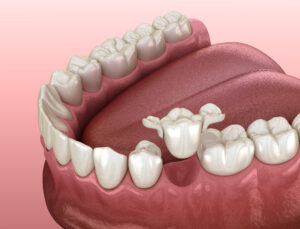 Missing a tooth, or several can be devastating for your self-esteem. Many of us are self-conscious about our teeth as is, and missing one can make us feel like we've failed in some way. Even if you practice great preventative care at home, you can still lose a tooth to external trauma or to infection. Regardless of the cause, it is important to be kind to yourself and to treat the loss as quickly as possible. Not only is missing a tooth aesthetically displeasing, but it can also harm your jaw and overall health. When you are down a tooth, your chewing is hindered, causing you to miss out on key nutrients from food. Moreover, missing teeth cause your jawbone to receive less stimulation, which can lead to it losing density. Luckily, there is a solution to tooth loss. In today's blog, your Kansas City, MO dentist discusses dental bridges and the ways they can help make your smile whole.
What Is A Bridge?
It is a prosthetic that consists of a prosthetic tooth — also known as a pontic — filling an existing space in your mouth. This tooth is affixed to the teeth on either side of the gap, bridging it — hence the name. The bridge can either fill a single missing tooth or can address multiple missing teeth as long as they are adjacent to one another. The teeth on either side of the space are known as abutments, and they are outfitted with crowns to strengthen them and provide better support for the pontic. When you get a bridge, your dentist will go to great lengths to color-match it with the rest of your smile. This ensures that it fits in seamlessly and won't stand out amongst your natural teeth.
When It Is Necessary
A dental bridge is needed when you are missing a tooth. As mentioned, having a full smile is not only beneficial for aesthetic reasons, but it is also beneficial for your overall health. If you are missing a single tooth, this restorative procedure can help address your needs without needing to commit to a full set of dentures. It should be noted that a traditional bridge is not an implant, so your jaw will not be getting the same stimulation it would if you had a full arch of natural teeth. However, we also offer implant bridges that consist of the pontic being attached to a titanium post that goes into your gumline. Over time, this fuses with your jaw, providing it with the stimulation necessary to stay healthy.
Contact Us To Learn More
​​If you have additional questions about dental bridges or the benefits they can provide, please do not hesitate to reach out to us! You can contact Delightful Dental Care in Kansas City, MO by calling 816-942-7669.