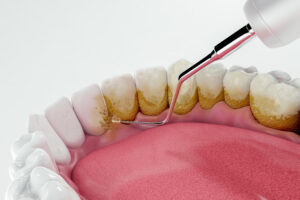 Whether you are aware of it or not, your oral health encompasses much more than just the health of your teeth. As a matter of fact, all components contained within the mouth – or oral cavity – contribute to your overall level of oral health. With this in mind, taking care of your smile should consist of more than just brushing your teeth, and doing your part to seek professional treatment is always in your best interest. In today's blog, your Kansas City, MO dentist explains the importance of taking care of your gum tissues and how a periodontal cleaning can help.
Paying Mind to Gum Concerns
It is really easy to fall into the trap of only caring for your teeth. After all, they are the star of the show! They are oftentimes one of the first physical attributes a person may notice about you, and they are also imperative to tasks requiring routine functional capabilities, including biting, chewing, and eating.
Though your teeth are important, it is better to think of your oral cavity as an ecosystem of structures that help one-another stay healthy and perform routine tasks. Take, for example, your gums. These tissues surround your teeth in order to protect the more sensitive roots from bacteria-related harm. When your gum tissues are not healthy, you become more prone to infection, inflammation, and even tooth loss.
If you find yourself experiencing sensitivity to the gums, or if they exhibit signs of tenderness, inflammation, or bleeding, it is important you seek treatment from our team and learn about your options. To learn more about this process and what it means for your oral health, give our team a call today.
Understanding Your Treatment
Oral bacteria can make their way beneath the surfaces of your gums and start causing plaque to develop on your teeth roots. As these deposits continue to grow, you will begin to notice more and more symptoms of early gum infection.
In cases where this process is already occurring, our team may recommend you seek the help of a periodontal cleaning. This process takes a few visits to complete, and consists of carefully cleaning beneath the gum line and polishing your roots. Contact our office to learn more about this process today.
Additional Steps to Take at Home
The number one way to minimize your chances of developing gum or periodontal-related issues is to stay on top of a well-rounded preventive dental routine. At home, you can take strides to protect your gums through flossing. This process helps remove stuck food particles that encourage bacteria to gather.
Give Our Office a Call
Contact Delightful Dental Care in Kansas City, MO by calling 816-942-7669 to learn more about the intricacies of caring for your periodontal tissues, and schedule your next appointment with our team today.