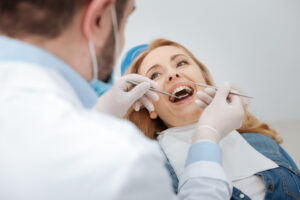 Taking care of your smile is a lifelong endeavor and one that could certainly benefit from an update or two. Indeed, there are so many factors out there that can negatively influence your oral health, and unfortunately, not a lot of positive influences. Because of this, it is important we take strides to practice thorough dental prevention. But what exactly does this mean in the context of your smile? In today's blog, your Kansas City, MO dentist details the important steps to be aware of during your routine checkup and encourages our patients to schedule theirs soon.
Acquiring In-Office Care
By now, you may be familiar with the need for dental prevention. For the purposes of this blog, dental prevention consists of any practice that aims to protect your teeth from bacteria, reduce the presence of bacteria, and overall provide your mouth with a thorough clean. In regard to prevention, there are two main forms: at-home care and in-office care.
Your preventive dental routine at home should consider the many factors that contribute to infection and bad breath, including your teeth, tongue, gums, and other tissues. At home, your preventive routine should consist of brushing your teeth at least twice daily, flossing in-between meals, and of course, rinsing using an antiseptic mouthwash.
Though you may be taking strides to practice a routine similar to this one at home, simply stopping there would make it incomplete. In fact, your dentist recommends at-home practices in conjunction with a routine checkup and cleaning appointment in order to ensure your smile is in the best shape it can be. To learn more about this process and how our team can help, give us a call today.
Checking for Concerns
According to most dental professionals, patients should attend a routine dental checkup and cleaning at least once every six months. This allows an appropriate amount of time between visits while also ensuring your smile is in good hands.
During the examination portion of your checkup, our team will take your x-rays and take care to examine each of your oral structures. We look for signs of trauma, damage, infection, and other indicators that something is amiss. Once we complete this step, we move on to your dental cleaning. Contact our team to learn more.
Providing a Thorough Clean
Though you may floss regularly, plaque and tartar can nestle its way into the hard-to-clean areas of the mouth easily. Your professional cleaning allows our dentists to carefully but thoroughly remove these deposits and set your smile up for success until the next time we meet.
Learn More Today
To learn more about the need for regular dental prevention contact Delightful Dental Care in Kansas City, MO by calling 816-942-7669 to schedule your next checkup with our office today.