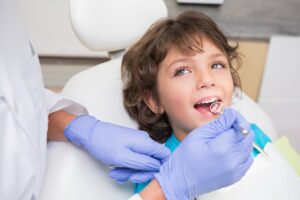 When it comes to seeking dental treatment, your oral health is the most important factor to consider. After all, your smile is negatively influenced by various aspects and elements, and unfortunately, the positive ones are few and far between. Still, sometimes the biggest threat to your smile is not something that directly affects your oral health, but rather how your smile appears or functions. Regardless, seeking treatment sooner rather than later is always going to be preferred. In today's blog, your Kansas City, MO dentist takes a look at the importance of starting dental prevention early and how our team handles children's dentistry.
It's Never Too Early to Start
By now, we are all familiar with the phenomenon of losing our baby teeth. As children, our younger teeth begin to fall out in preparation for our permanent adult teeth that are coming in. It is a natural process that everyone experiences, and it can be easy to see why a person might not want to start intensive preventive practices for their children prior to this stage. On the contrary, however, prevention is important to teach and starting early is the best choice.
You see, dental prevention consists of any practice that aims to minimize the presence of plaque and tartar, strengthen your natural protections, and overall promote good hygiene and sense of cleanliness. By teaching your little ones the proper practices early, you are able to lay a foundation of decent care and lifelong health.
Our office recommends bringing your child in for his or her first checkup by the time the first tooth makes its appearance or by his or her first birthday, whichever comes first. To learn more about this process and how our team can help, give us a call today.
Understanding Your Child's Checkup
By about the age of three, you should begin bringing your child in for regular dental checkups. During these appointments, our team will perform a routine examination and a gentle cleaning so as to help keep teeth healthy and happy.
We also encourage your little one to practice good hygiene habits and make the process fun and enjoyable so that they feel good about the process. Contact our office to learn more or schedule your next appointment with our team.
Additional Ways to Help
Little smiles are growing and developing, and as such, sometimes they require a boost of help or strength. This is where our children's dentistry practice comes in to help, as we can provide dental sealants or fluoride treatments to help protect the back molars from cavities and strengthen the natural layer of enamel surrounding each tooth, respectively.
Learn More Today
Contact Delightful Dental Care in Kansas City, MO by calling 816-942-7669 to learn more about the ins and outs of children's dentistry, why it is so important, and to schedule your next appointment with our team.