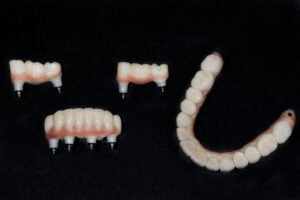 In our most recent blog, we took a look at instances in which a person may lose a tooth as an adult, as well as how a dental implant and crown restoration could address these needs in a lifelike manner. Indeed, tooth loss is a phenomenon that many of us do not like to think about, but that does not mean it does not occur. In fact, it is important to know your options and create a plan of action in order to ensure and maintain a base level of oral health. In today's blog, your Kansas City, MO dentist explains the benefits of implant-retained dental bridges and how they can help improve your oral function and appearance.
Looking at Patterned Tooth Loss
It goes without saying that the last thing a person wants to experience is the loss of one of their teeth. While everyone loses their baby teeth at a young age to make room for their natural adult teeth, as an adult, these structures are considered permanent. In other words, once they are gone, they are gone for good.
The problem with tooth loss is that once one tooth has become infected, it will not be long before surrounding structures experience the same fate. As a matter of fact, this phenomenon is what we refer to as patterned tooth loss.
Losing so much as a single tooth can cause complications, as each structure is intended to absorb a percentage of your overall bite pressure so that you can maintain practices like biting, chewing, and eating. When missing several teeth, the issue is only exacerbated. Fortunately, a dental implant bridge has just what you need to address these concerns. Contact our team to learn more today.
Spanning a Multi-Tooth Gap
Although a dental implant is exceptional for functional and structural benefits for a single tooth loss, what does it mean for multiple? You see, implant technology can be used in conjunction with dental restorations to create implant-retained solutions!
An implant bridge consists of two or more artificial crowns that are bonded together. On both sides, it can rest securely atop a dental implant, allowing your new bridge to not only complete your smile, but perform functionally as well. To learn more about this process and how our team can help, give us a call today.
What to Expect from Treatment
Similar to implant therapy, your dental bridge treatment will first see us strategically placing the dental implant posts into the correct area of the jaw. This allows us to strategize the best areas to support the most bite pressure. Following this, we will create a custom bridge that adheres to your needs. And that is it!
Let's Get Started Today
Contact Delightful Dental Care in Kansas City, MO by calling 816-942-7669 to schedule your next appointment with our team and learn more about the benefits of implant-retained dental bridges.