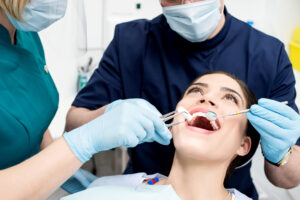 Advances in dental technology over the years have made it possible to address dental concerns across a broad spectrum. From simple cavities to complex tooth loss, there appears to be a solution for virtually every dental ailment. Though this is excellent news, it is also important to keep in mind that regular dental prevention can help keep your smile strong and safe for years to come. In today's blog, your Kansas City, MO dentist explores the value of routine preventive care, as well as discusses why it is so important to stay attend your routine dental checkups.
Necessary for a Healthy Smile
It goes without saying that dentistry in and of itself is a complex area of practice. Moreover, dentistry is so vast that it can be further divided into specific areas such as restorative treatment and cosmetic care. Though there is a treatment for virtually every concern, one thing remains consistent: dental prevention is the name of the game when it comes to caring for your oral health.
Indeed, dental prevention can be considered any practice that aims to strengthen your natural smile defenses and fend off persistent bacterial threats. Your dentist recommends practicing dental prevention both in-office and at home, and we are more than happy to help your family get started on best practices.
In terms of at-home care, the biggest gift you can give your grin is a consistent routine of brushing twice a day, flossing after meals, and rinsing using antiseptic mouthwash. Even still, no preventive routine is considered to be complete without attending a routine checkup and cleaning appointment at least twice a year. To learn more about this process and how our team can help, give us a call today.
Determining Points of Concern
When you come in for your routine checkup, our team will begin by providing a thorough examination of your oral structures. When we say oral structures, we mean more than just your teeth, as every component contained within your oral cavity has an influence over your health.
Your checkup will consist of our team providing a detailed look into your smile so that we can identify potential points of concern, including damage, trauma, infection, and disease. Contact our team to learn more today.
How a Professional Cleaning Helps
In addition to your checkup, we will take care to provide a gentle cleaning. Though you may take excellent strides to stay on top of care at home, sometimes bacteria nestle their way into the difficult-to-clean areas of the mouth, forming difficult plaque and tartar deposits that are unreachable with brushing and flossing alone. Our targeted cleaning allows for a more-detailed clean that extends the lifespan of your smile.
Schedule Your Next Appointment
To learn more about the importance of staying on top of routine preventive care, contact Delightful Dental Care in Kansas City, MO by calling 816-942-7669 and schedule your next checkup with our office today.