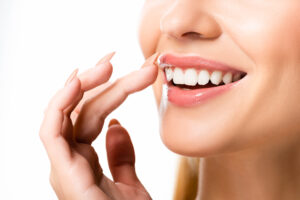 There is nothing more disheartening for a person taking every step possible to prioritize a healthy, jubilant grin than experiencing the presence of a noticeable smile blemish. Indeed, your preventive habits help keep your teeth strong and healthy, but that does not mean that surface-level cracks, chips, and stains will not cause problems. When faced with a grin that seems to be riddled with blemishes, however, treatment in the form of porcelain veneers can help tremendously. In today's blog, your Kansas City, MO dentist takes a look at the major benefits of dental veneers, as well as describes what you can expect from treatment.
Dealing with Multiple Discrepancies
It goes without saying that, when it rains, it pours. This concept can be applied to various circumstances, including the presence of several surface-level discrepancies in a smile. Indeed, your smile is constantly under the stress and scrutiny of various concerns and issues, and cosmetic concerns do not have to fall to the sidelines in every case. In fact, cosmetic dentistry is designed specifically to address these needs.
Cosmetic dentistry can be defined as any treatment that aims to address noticeable smile discrepancies such as stains, chips, cracks, and even gaps between teeth. What's more? Treatment of this caliber is typically noninvasive in nature, requiring no more than one or two visits to complete.
There is no shame in pursuing cosmetic care, but our team does recommend prioritizing any restorative treatment that is needed prior to seeking care. Though dental whitening addresses stains as bonding and contouring addresses chips and cracks, nothing is better suited for a grin riddled with different issues than porcelain veneer treatment. To learn more about this process, give our team a call today.
Efficient, Noninvasive Treatment
When you come in for your veneer appointment, our team will begin by taking measurements of your structures so as to provide highly-custom results. From here, we will create the veneers – which are ultra-thin shells of dental porcelain – and attach them to the surfaces of the specified teeth using dental cement. The best part? They only require a minimal amount of enamel sculpting to place, making them noninvasive in nature!
Once the veneers have been bonded to your teeth, you will be all set to go and enjoy your newly enhanced smile. Contact our team to learn more about this process and how you can get started today.
Achieving a Desirable Grin
Many people strive to maintain a bright and youthful smile appearance, but sometimes cracks and chips can get in the way. Porcelain veneers allow for a highly-realistic finish without having to cause you to break the bank in the process.
Learn More Today
Contact Delightful Dental Care in Kansas City, MO by calling 816-942-7669 to schedule your next appointment with our team and learn more about the benefits of customized cosmetic care.